Opel Rekord B (1966)

The 'Rekord B' was presented in June 1965 and was manufactured only for 11 months. Basically it is a modified Rekord A with wider wheelbase, new engine and redesigned front and tail. It helped to extend the life of this breed of car until the Rekord C was ready for release in late 1966. I own a Rekord B myself, that's why this is the most comprehensive page of this Opel site.


Air conditioning - Caravan
The main feature of the Rekord B was the new CIH (Cam In Head) engine range introduced
on this model. The 1900 engine produced a respectable 102 hp (SAE) and gave the model a class lead in performance .vs. price. This engine in various capacities was used throughout all the Rekord series up to 1986.
Find below the six body types offered, if you include the 6-cyl option there were ten different models in production during the eleven months !

Model

Picture

Code

Notes

2-door sedan

LZ

4-door sedan

LV

4-door sedan De Luxe

LVL

4cyl or 6-cyl (LVL-B6)

2-door Sport Coupé

SZ

4cyl or 6-cyl (SZ-B6)

3-door Caravan

KW

3-door Delivery Van

L

(no rear side windows)

Gearboxes: 3-speed, 4-speed floor operated (on 1900) or automatic ('Olymat').
Sunroof on special order on some models.

The models could be ordered in many colors
[Glassomax color chart (237k)| Color chart from Rek A-B parts manual (238k)]
Note: The colors shown in scans do not reflect the real colors but instead demonstrates how a
low-budget scanner can screw things up. So do not use the colors shown as a guideline
when you mix your paint !


Rekord B color animation (680 Kbytes)
Takes over 2 minutes to download
over a modem and is not worth the wait.
The 4 cyl engine was available in 1500, 1700 or 1900 capacities, only cars with 1700/1900 engines were sold by dealers in Sweden. The car was available in a number of model variants (and combinations of engine/gearboxes, not to mention all colour combinations (27 colours for the Rekord A/B) and other options.


Rekord B luggage capacity


1966 Rekord B Caravan, click for high res image
Very few of these cars remain today.


These fine items remained identical to those of the Rekord-A


Caravan interior view


Caravan in action


On of the most common seat trim textile patterns
(same as on seats pictured above)
The Rekord B was also available with a 6 cyl engine, in 4-door sedan or coupe body styles. Click here for images of a fine restored Norwegian car. These were imported to Sweden on special order only.
The 6-cyl model provided great performance as long as the road was
straight. High speed on twisty roads was not a recommended combination due to
the heavy front engine which produced understeer characteristics in combination
with a light rear end. The sight of the straight six shoehorned into the short engine bay
is an impressive sight for anyone interested in mechanical engineering. As for any car with
a sporty appeal and low price, a generation of young owners drove most of the few 2nd hand cars
to pieces, so few remain today.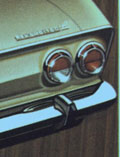 The B model shares the major body structure with the previous Rekord A range but has a revised front and tail treatment. It is visually identified in the exterior by its four circular tail lights

(same as on the 1965 Experimental GT ) , and rectangular headlights. The Rekord B has some unique parts only used this year and on this particular model. These include : rear axle, front grille, driveshaft, rear lights, tail body structure, front wings. There are more examples. This can make it difficult for anyone trying to restore or maintain this model today.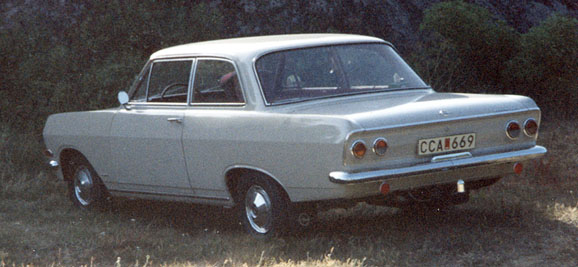 The author's own Rekord B 1900 2-door (LZ), color is 'Strandbeige' (BB = Beach Beige) Bill Gates should get one for his Corvair collection !! It's the same type of rear end treatment..
Rekord B Rallye career - Winner of the Swedish Rally

These unique images show a 2-door (LZ) Opel Rekord B 1900 1966 in fierce rallye competition, a very brief but successful career. The B model was driven to victory in the Swedish Rally standard class by Lille-Bror Nasenius, a well known Opel driver on the Swedish rallye scene in those days.
The main feature of the Rekord B in competition was the standard 102 hp (SAE) engine which put out enough power to leave other standard cars of its class behind it. The Rekord C which was released shortly after had a much more modern chassis (rear axle with spring suspension) and the Rekord B soon disappeared from the rallye scene.
The CIH engine, which continued to be used in new Opel cars for 20 more years,
(last model was the 1986 Opel Rekord) became a popular tuning object for increased power output. A large aftermarket of tuning equipment for this engine developed. This engine was the basis of Opel rallye cars for 20 more years, in cars like the Kadett, Manta and the Ascona. These are still attractive and fun platforms for people competing in national low budget car sport classes (Folkrace, Rallycross, etc..)
Rekord B 1966 image gallery

 B Coupe(left)    (right)      B Caravan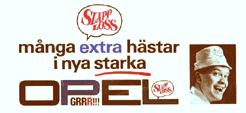 Excerpt from Swedish 1966 brochure on the new models. The slogan 'Släpp Loss' was used eveywhere in the Swedish 1966 Opel sales campaign and was meant to emphasize the new range of more powerful engines. The slogan GRRR!!! also referred to the new more powerful engine range.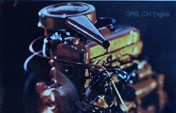 The new Cam In Head (CIH) engine was introduced in 1966.
The 1966 model uses a downdraught dual port SOLEX 'DIDTA' carburettor setup with vacuum controlled secondary port and water temperature controlled bimetal spring choke mechanism. Tuning this setup for optimum performance is a familiar activity for the DIY Opel hobbyist. The same setup was used on most of the Rekord C series.The Weber 36 DCD carburettor is a popular replacement for more reliable operation and manual choke.
A 1900 engine produced 102 hp (SAE) = 90 DIN.


Read original 1965 Swedish GM 'Service-Nytt' publication about the new engine !! (Swedish)
'Service-Nytt' was a monthly bulletin distributed to Swedish service stations by General Motors during the 60's.
The same basic engine remained in production in many models up to 1986, 20 years with different setups of carburettors/fuel injection, different capacities, etc.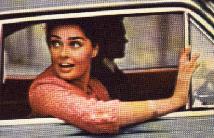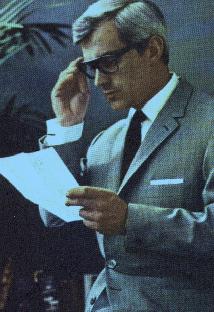 The Rekord range attracts both women and engineers
---
Opel Classic Automobiles, by MEDIAL Web Services