Opel GT


Opel GT, X-ray view

Thanks to General Motors Europe in Switzerland who
made available a unique original diapositive for this page.
Click on image to view our high resolution scan, 161 752 bytes.
(Download time appr 1.8 minutes @ 14400 baud)

The Opel GT production began in september 1968, three years after the 'Experimental GT' prototype was shown at the IAA motor show in Frankfurt (1965).GT bodies were produced by french manufacturers 'Chausson' and
'Brissoneau & Lotz'. Final assembly took place in Bochum, Germany.
There were initially 2 models, the GT 1100 (60ps) and GT 1900 (90ps).
(PS= DIN Horse Powers). Initial price was DM 10780,-
In 1969 a targa style model 'Aero-GT' was shown at the IAA
in Frankfurt, but not put into production. Aero prototypes remain today
and are sometimes shown by Opel at German classic events.
Production ended in August 1973, total production of 102463 cars.
Above info data was translated from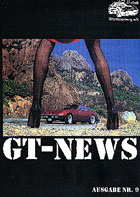 GT Club Wurttemburg e.V 'GT-NEWS ausgabe Nr 9, 1995.
Thanks to Andreas Dworschak <dworscha@pilatus.mpi-stuttgart.mpg.de>
for making available this and other useful GT material.
---