Gunnar´s Suzuki GT750M (1975)
I won the Ebay auction on this Florida GT750M in late November 2011.
The bike looks great material to ride at classic club events and for tinkering with the cosmethic details. The bike arrived in Gothenburg Sweden in January 2012, Sweden and I hauled it safely to Stockholm. I run a project to adjust some details to have it pass the traffic inspection and become a swedish registered vehicle. Happens late July 2012.
Movie Clips, cool to watch. I have still at time of writing not taken a single ride on this bike so far.
It has only been started up for 20 seconds inside the storage facility where it is located. Any smoke
would trigger alarms and have fire squads pay an expensive visit.

This video clip instilled confidence. A relaxed engine note, sounds just right.
That other sound comes from some electrical lawnmover.
Blue smoke does NOT mean a worn out engine when it comes to two stroke engines.
This was supposed to prove it can shift gears...
---
The GT750M Road ready project
Here you can follow the detail work of gathering parts needed for
some cosmethic finishing and adaption for swedish vehicle regulations.
This will be completed during June, 2012.
Although this looks like plenty of parts it is nowhere near what it
takes in labor and cost to restore a GT750 to "brochure condition". Such a thing
will not happen this time. Still I am replacing a few key components that are
very expensive upgrades such as the rare speedo/tach gauges and seat.
You can enjoy my GT750J and GT750L sites
for illustration of past restoration adventures.
KM/H Speedometer
The speedometer needed to change from a MPH reading to KM/H.
This can be done either by decals or finding an actual physical KM/H
variant of the GT750M speedometer.
I went for the difficiult alternative, and just by chance I managed to grab one
ahead of the crowd when parts dealer Marcel Vlandeere in the Netherlands
had added it to his availability parts list.
Appr 2000 swedish crowns.
Given how hard it was to find a new one
this is among the last KM/H unit anyone will ever find in this condition.
KM/H Tachometer
The rev counter was defective and the needle jumps up halfway the dial and stay
there while the engine runs.
So I went for finding a new GT750M one. Reiner Schneider in Mannheim, Germany
could supply one. Appr 2000 swedish crowns.
Fuel petcock
Always a good idea to replace the Fuel petcock on old bikes. 1000 crowns.
Still not installed because it turned out the existing one
was recently replaced.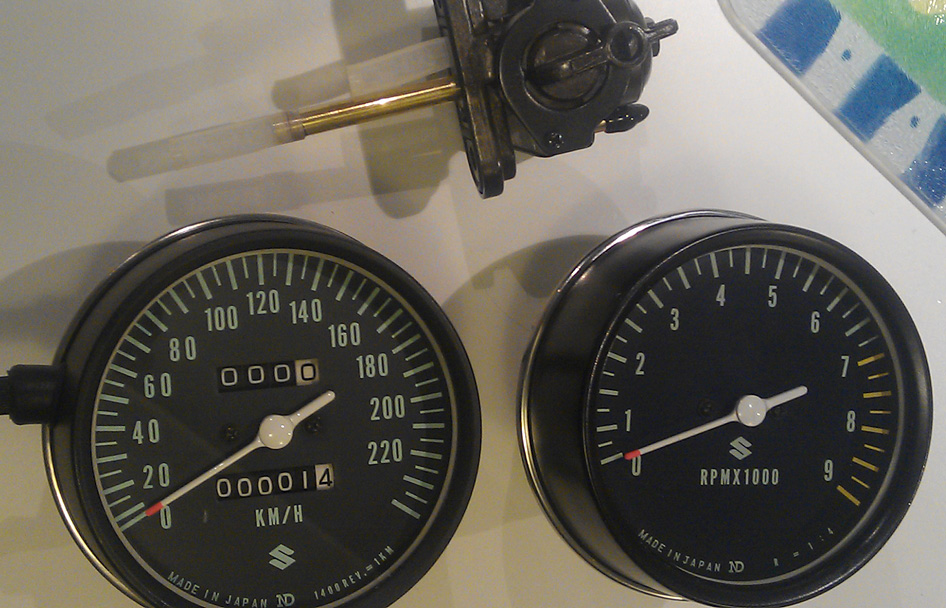 Yellow reflex badges and flasher lenses
Reflectors sit on the side of the flasher/direction indicators at the rear.
These and lenses needs to be changed from red to orange according
to traffic regulations. Reiner Schneider could supply.
Headlamp insert
The headlamp needs to produce an assymetric high beam/low beam pattern
according to EU regulations (such as in Sweden/Germany).
Reiner Schneider have them in stock.
Other cosmethic stuff
While at it I ordered some ultra expensive original Suzuki bolts
and other indispensible parts such as NOS handlebars and a luggage rack
(another 4000 crowns in total)....enough invested for now.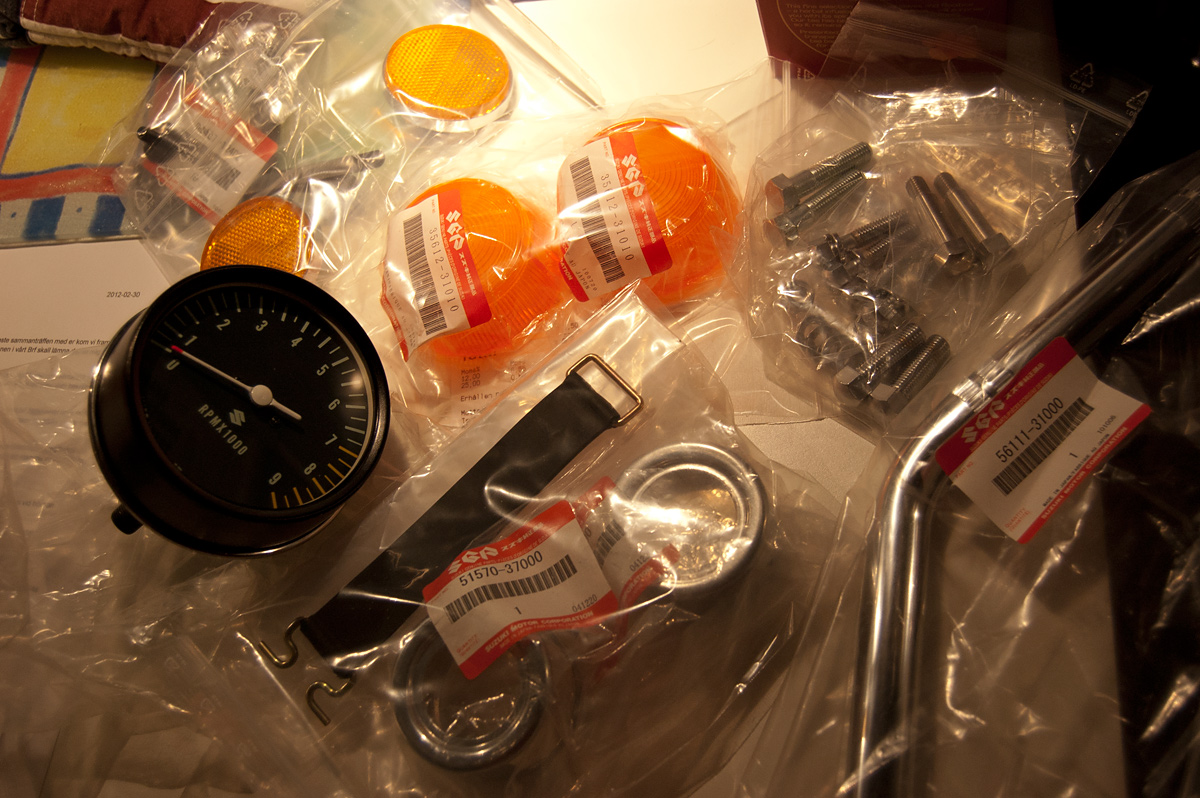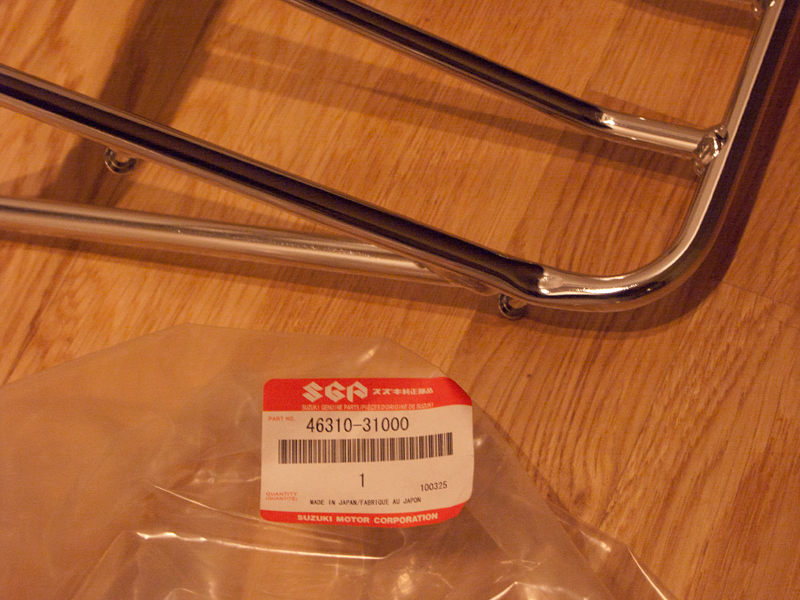 Seat restoration
The seat had an all too thick foam so the seat appeared too fat compared
to original. I sent the seat to Tony O´Connor in Australia
(Eldorado Motorcycle Seat Restoration)
and he have done a very thorough restoration to better than new condition.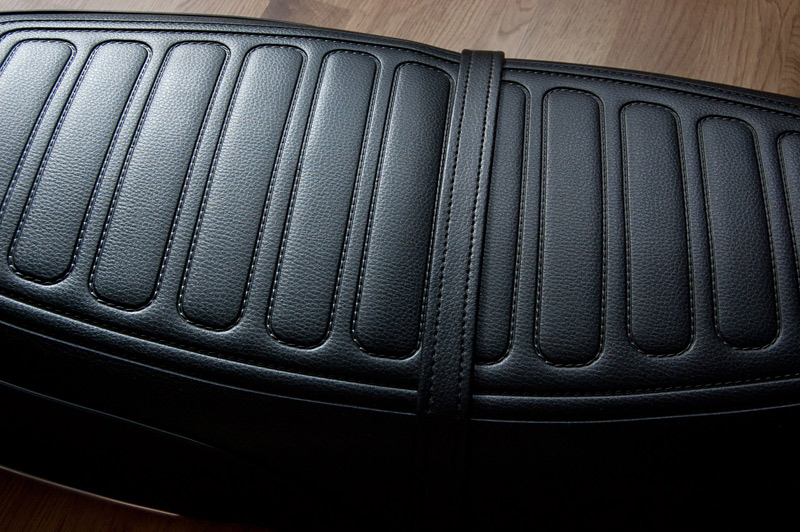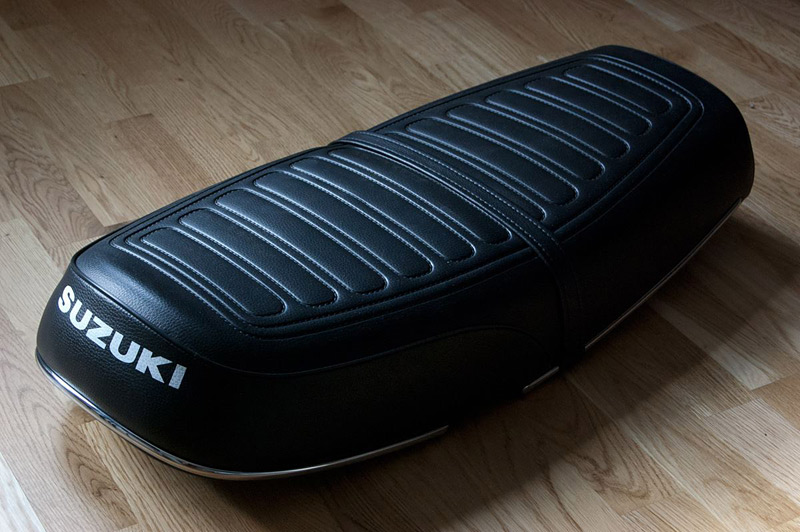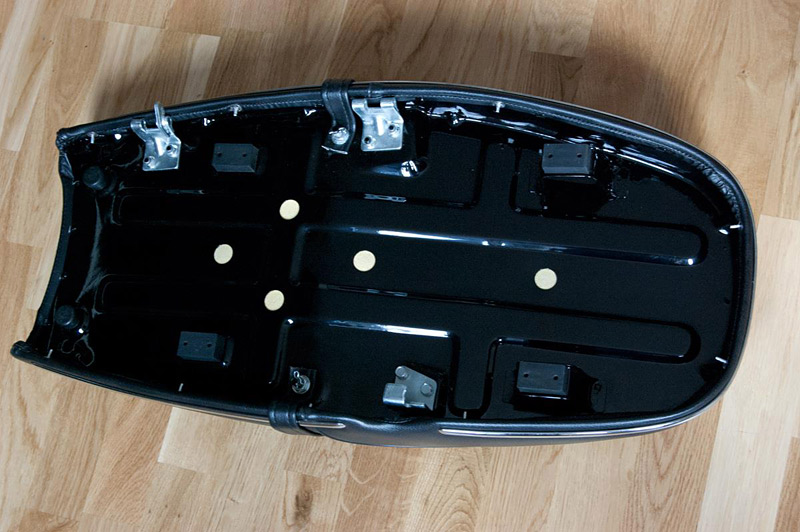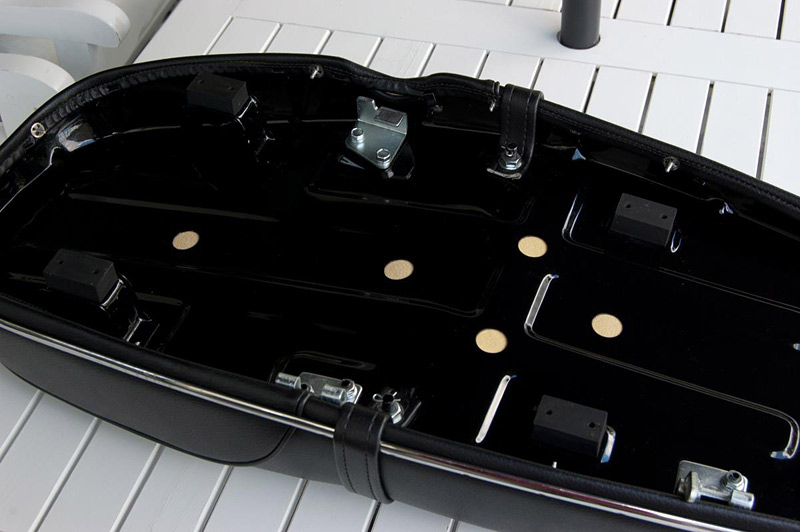 Here is the most recent photos of the bike with parts installed !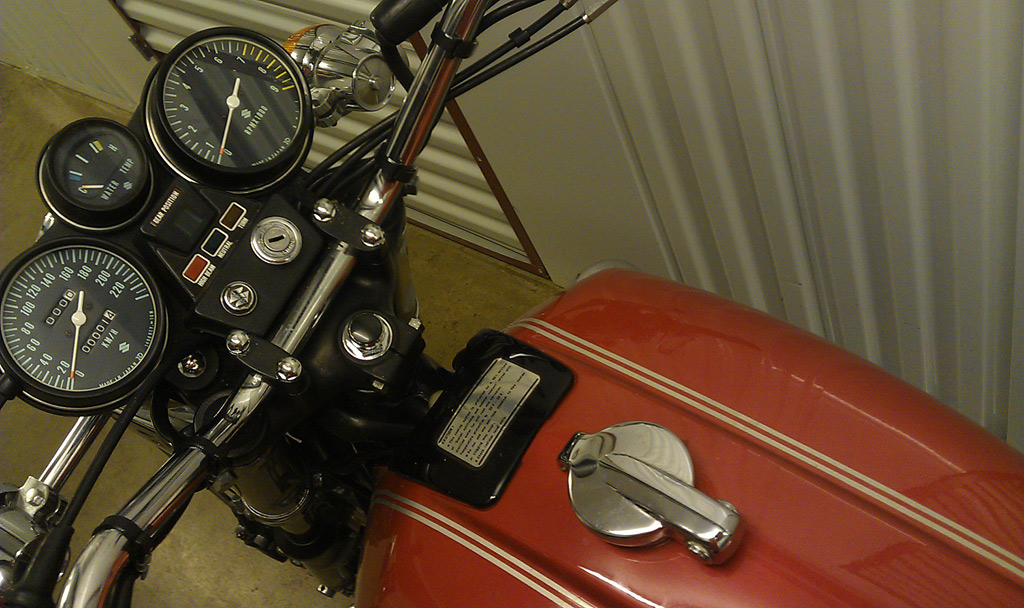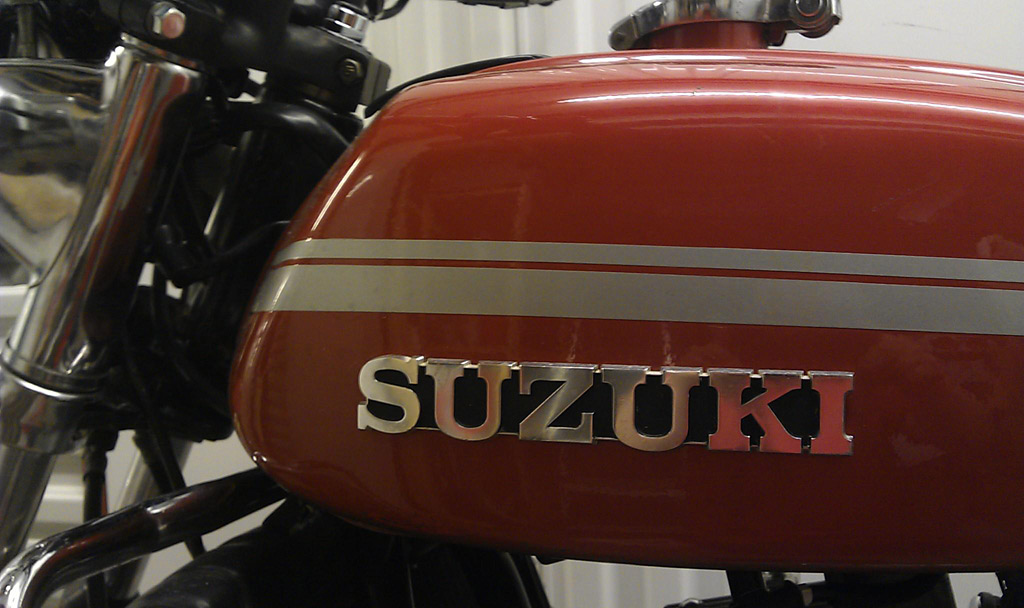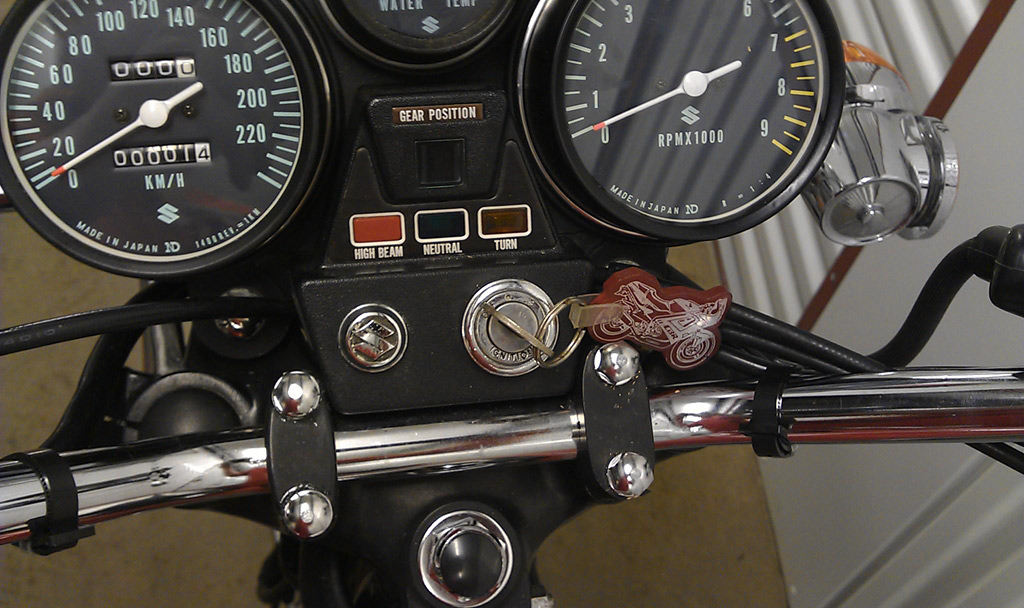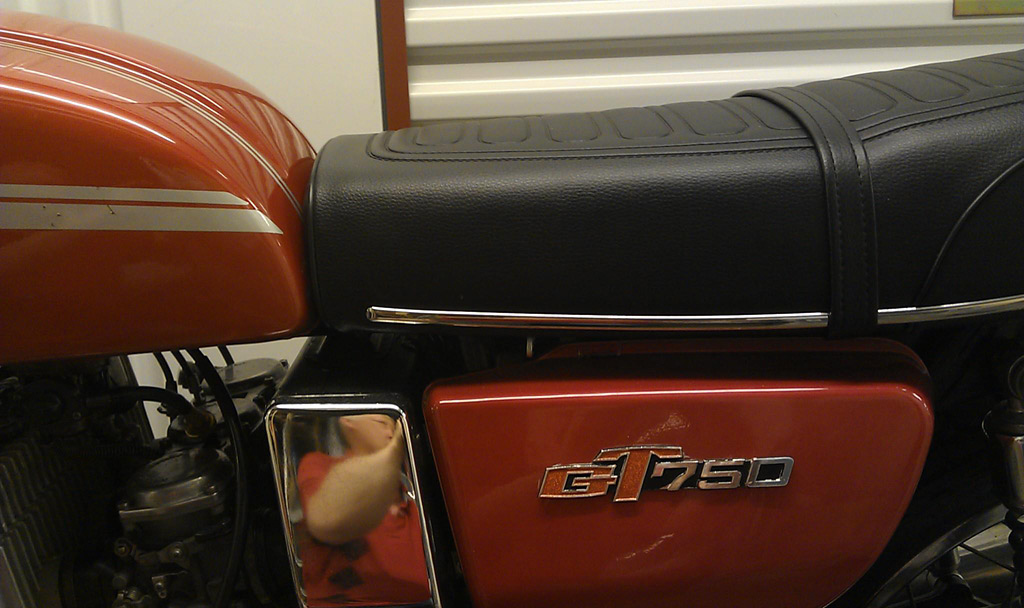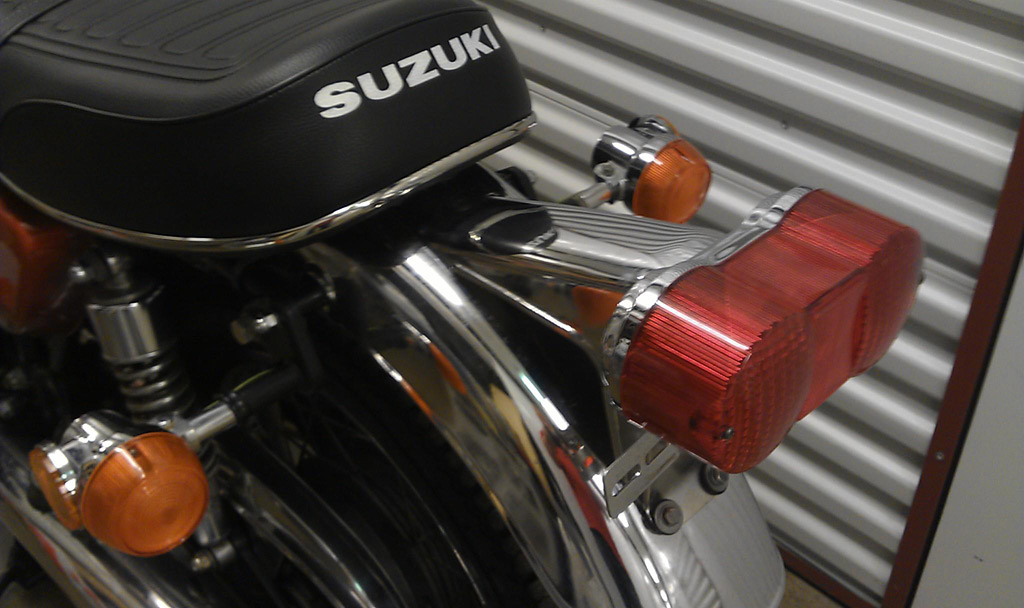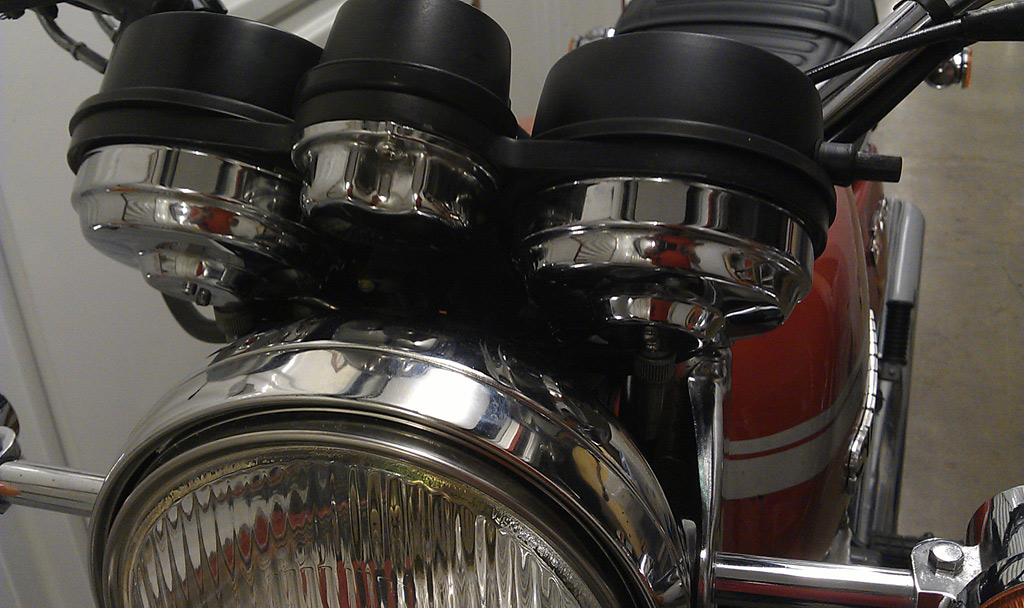 The paperwork / Traffic Inspection Process
This is ongoing. Sweden permits import of vintage motorcycles for "own usage" from non-EU countries according to an excempt scheme where these vehicles are excempted from being subjected to all the approval that a new product that enters the EU would need to pass. A private person is permitted to import ONE such vehicle per year from a non-EU country.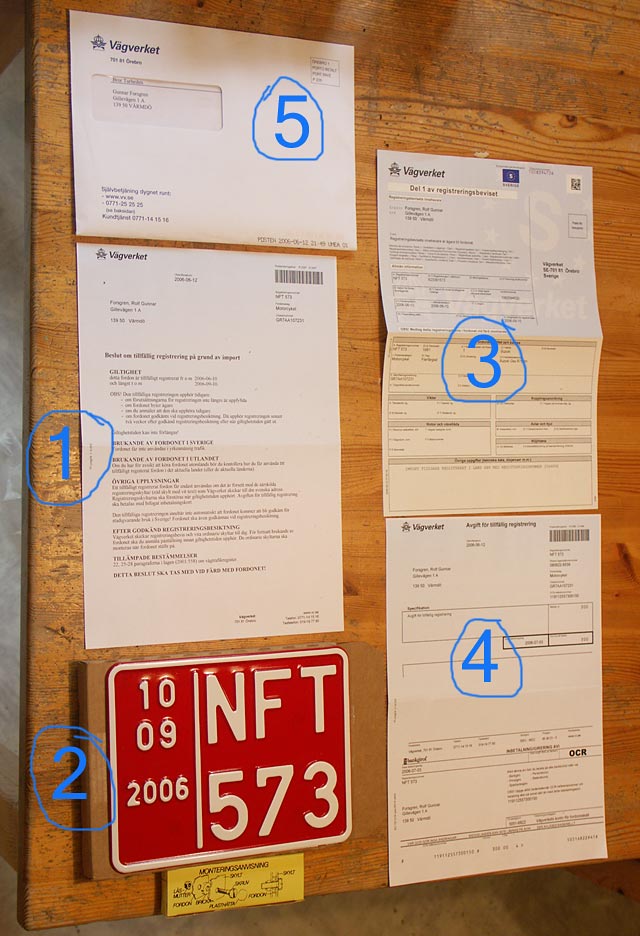 Here is a photo from 2006 when I imported a GSXR-750M from the U.K. It may serve as illustration for now.
1=Decision temporary regiatration
2=Temporary registration plate in Red/white for import vehicles.
3=Registration document for temporary recistered vehicle
4=Invoice to pay
5=Copies on the original vehicle Title from the traffic authorities.
The first ride ! July 03
I got the swedish iterim plates now (red/white) and can do limited test rides until the inspection in late July.
The bike has been in storage since January so it was really time for getting it onto the road.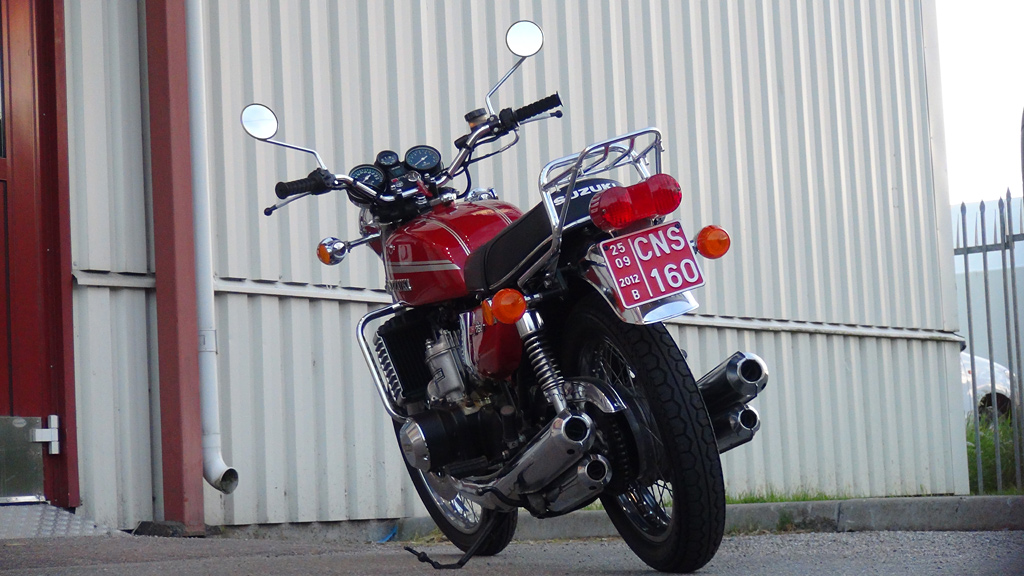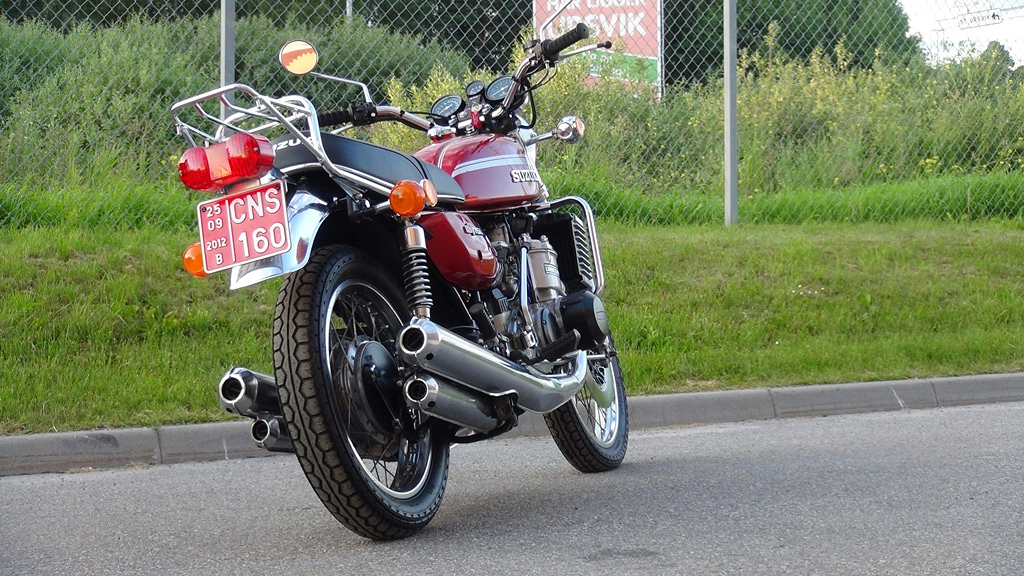 These tires are at least 20 years old and a fingernail cannot impact the rubber at all.

I now got these Metzeler Lasertec 3.25-19 54H front, 4.0-18 64V rear.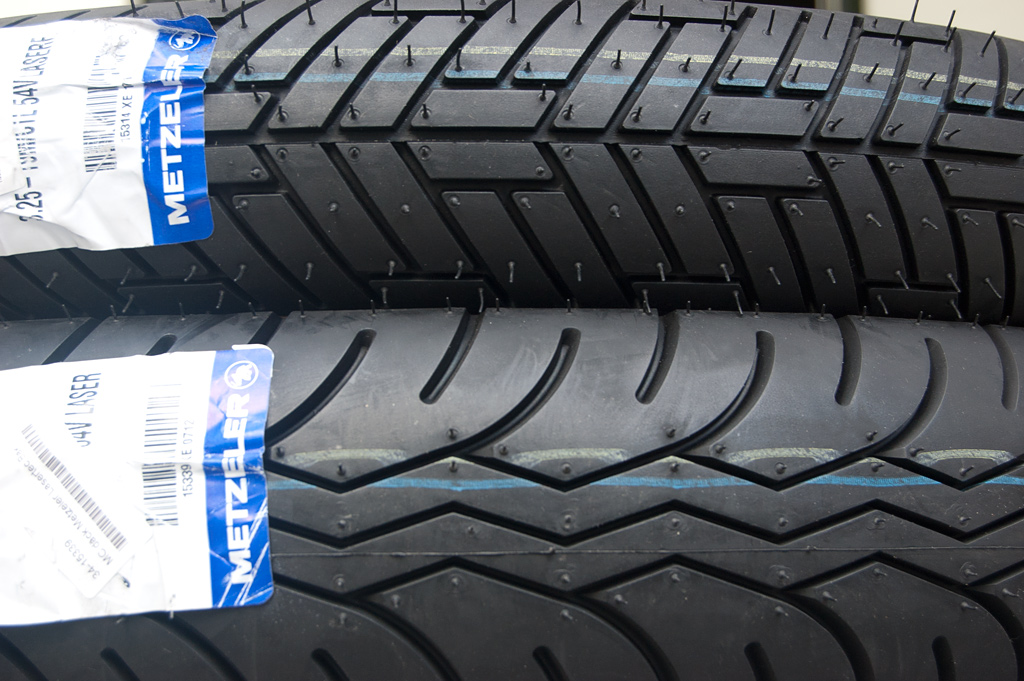 I want the grip from modern tire design and rubber. These tyres are inobtrusive enough to not disturb the overall look of the bike and still make it safer and more effortless. These were new technology in 2008 but still among the best choices for a GT750 that is going to be used on the road.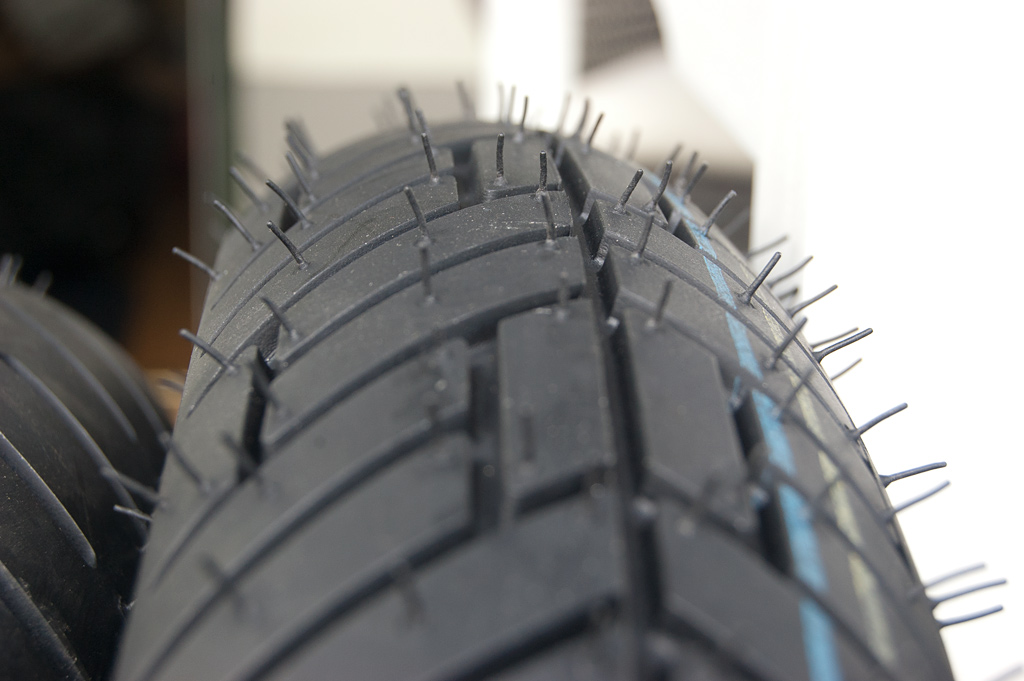 July 27: Tires now installed and the bike is ready for the import traffic inspection on July 31.